The Original Jet Boat Ride
JET BOAT QUEENSTOWN!
Are you ready to take on the mighty Kawarau & Shotover Rivers?
Looking for an epic adventure activity in Queenstown?
One of Queenstown's best adrenaline activities, KJet takes you on an insane 60 minute high speed Jet boat ride thundering across three waterways traveling at speeds of up to 95kph in the fastest and meanest Jet boats in town. Blast across Lake Wakatipu and down the world-famous Kawarau and Shotover Rivers with 45km of unforgettable thrills, 360 degree spins and adrenaline in one of the world's most stunning locations.
Departing every hour on the hour from Central Queenstown, come and experience the world's first Jet boat ride with Kawarau Jet (KJet) from the Main Town Pier. There's a reason we've been around for over 60 years… it's in our blood!
Check out our specials page for awesome deals including Jet boat trips for just $89 or give the gift of adrenaline with an online gift voucher!
ADULT $99 $89

CHILD $59

FAMILY $299
KJet family pack includes 2 adults and 2 children
Book Now
$89 DEAL
$89 Winter Special is valid for bookings 1 - 31 August 2022. Valid on adult fares only. *T&Cs apply.
WHAT YOU GET WITH US
A wild ride on the world famous Shotover & Kawarau Rivers
60 minutes of pure adrenaline and stunning scenery
360° spins and acceleration in one of our high powered, twin engine Jet boats
Fastest Jet boats in town – reaching speeds of up to 95kph
Real Jet boating in water that's less than 5cm deep in places
Great value – more bang for your buck
No height restrictions to ride KJet
Hassle free – just step on board one of our Big Yellow Jet boats at the Main Town Pier on Queenstown's waterfront. We're located right in the heart of Queenstown Bay
Innovation – we designed the first roll bar system, as well as twin engine technology and heated handrails
Kick-ass skilled drivers trained to the highest standard in the industry
100% Kiwi – locally owned and operated
Jet boating is what we do, it's in our DNA.
TAKE A PIECE OF ADRENALINE ACTION HOME WITH YOU!
It's not every day you get the chance to take a spin on the world's first commercial Jet boat ride. We capture every Jet boat ride, so make sure you check out your trip photos and videos to purchase here.
DAILY DEPARTURES
Every hour on the hour, 10am to 4pm. Leaves from Main Town Pier, Queenstown. Check in is 15 minutes before departure.
CHILDREN
Children aged between 5 and 14 years are eligible for child rate. Infants aged 2-4 years ride FREE with an accompanying parent or caregiver and must sit on their knee if seating is not available. Children and infants must be able to fit into one of our life jackets to ride KJet.
KJet Jet boat trip
Q. What should I wear on the Jet boat?

A. For your comfort we recommend that you dress for the weather conditions on the day, keeping in mind that in our boats you will be travelling at 95kph and therefore the wind-chill can be frosty! Don't forget to bring a waterproof jacket, your sunglasses, (or goggles in winter) sunscreen, as well as hats & gloves in winter months. Please ensure your little ones are dressed especially warm.

A. We provide life jackets in a variety of sizes up to 4XL.

Q. Can I take my bags on the Jet boat?

A. We are able to store backpacks or handbags. We do request that you please leave your valuables at home

Q. Can I take my camera on the Jet boat?

A. On our trip there are many fantastic photo opportunities so YES, we'd love you to take your camera on board to capture these moments. However your camera is taken on board at your own risk, keep in mind with Jet boating there is the risk of getting slightly wet and we need you to be able to hold on to the hand rails, especially during our 360° spins. If you need more information about this please chat to our Reservations Team and Drivers when you check-in for your trip.

Q. Will I get wet on the Jet boat?

A. Part of the fun with Jet boating is the spray and drama! We recommend you wear a waterproof jacket. If you are really worried about getting wet then please request to our staff that you sit in the centre seats of the boat. Please note we can't guarantee seating.

Q. What is your child age?

A. Our child age is 5-14 years. Children must be accompanied by an adult to ride the Jet boat. Our Infant age is 2-4 years and travel for FREE with an accompanying adult.

Q. What are the weight/height restrictions to ride KJet?

A. Children – there is no height restriction to ride KJet. However, children must be able to fit into one of our life jackets. Children must be accompanied by an adult to ride the Jet boat. Adults – we do not have a weight restriction to ride KJet but you must be able to fit into one of our life jackets. We have a wide variety of life jackets available going up to a maximum size of 4XL. Because we don't have height or weight restrictions, the decision on whether the child can sit independently or sit on a guardians lap is subject to KJet staff discretion at the time of check-in. When sitting on a guardian's lap, the guardians arms must be wrapped around the child, holding on to the handrail to help secure the child during the trip especially when the boat spins. The guardian has more control seated like this as opposed to the child sitting beside other passengers where there is more chance of movement during spins.

Q. Can I ride KJet if I am pregnant?

A. Unfortunately, pregnant thrill-seekers are unable to ride KJet.

Q. Can you Jet boat in the winter?

A. Absolutely! We also have heated hand-rails to keep your hands warm.

Q. Is it wheelchair accessible?

A. Yes absolutely, as long as a caregiver can help our drivers carry you down a set of stairs and assist you into the Jet boat.
WHERE WE TAKE YOU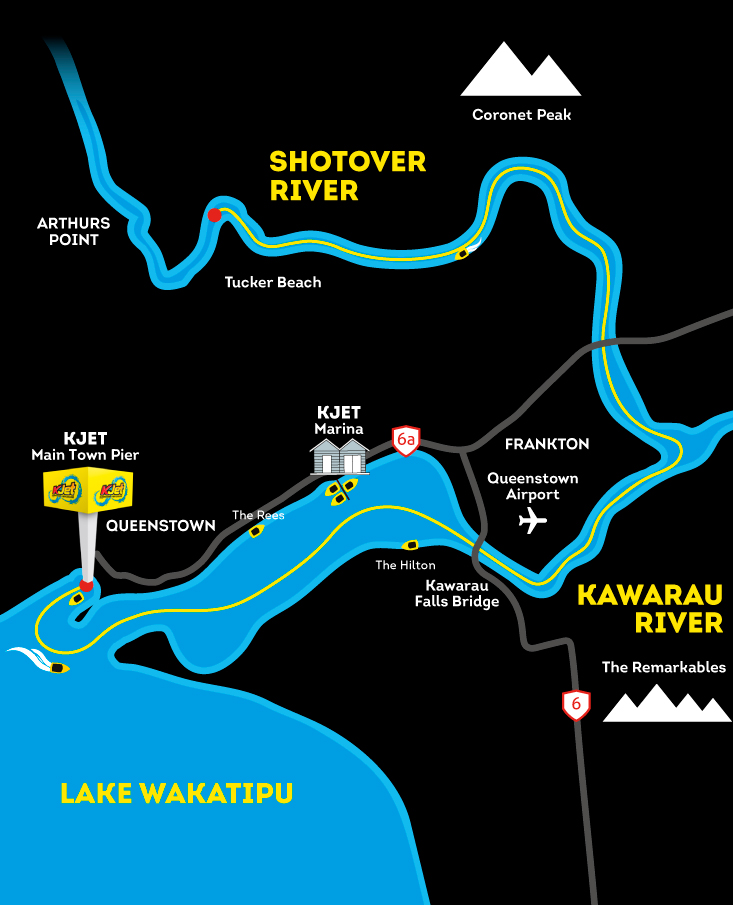 what to bring:
warm, waterproof jacket

casual footwear

sunglasses

camera

Sunscreen
we provide:
life jacket