August 17, 2022
Roarsome Dinosaur Activities in Queenstown
Do your kids love dinosaurs? We've put together a must-do list of places to visit when you're in Queenstown for your little ones to get their Jurassic fix.
The kids will be amazed to discover what's hidden under Lake Wakatipu. New to Queenstown in late 2019, Time Tripper is located underwater at the Main Town Pier. Watch yourself glow up if you're wearing something white, florescent or neon, as you head down the stairs into a unique black light theatre. Once everyone is seated, the underwater observatory will transform into an underwater movie theatre for an animated trip through time. You'll get to learn all about which dinosaurs prowled around the Wakatipu basin 90 million years ago but watch out for Murray the Mosasaur, he can be a little bit scary! Once the movie has finished, there's 15 minutes to watch the fish feeding frenzy where you will marvel at diving ducks, slinky eels and massive trout.
Suitable for all ages, sessions are every quarter past and quarter to the hour. Each session takes 30 minutes and can be booked here. Tickets are just $15 for adults and $8 for kids.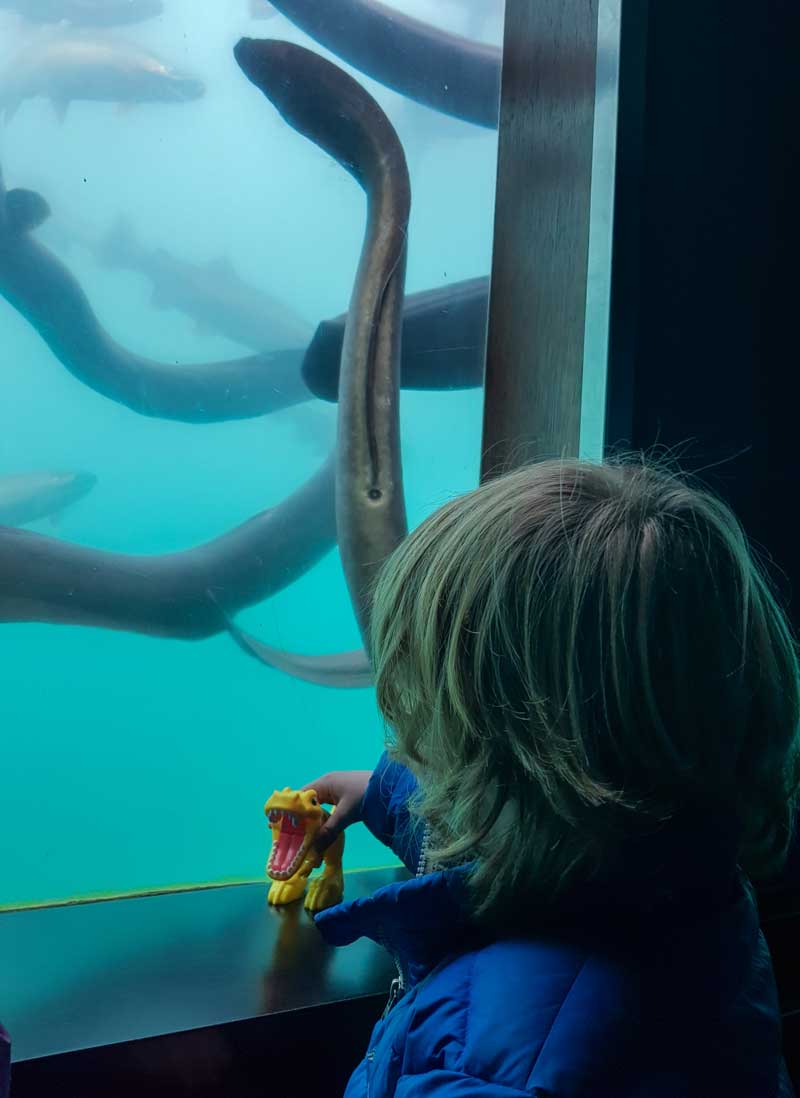 Best known for go karting, arcade games and lazer tag, Game Over is also home to many large dinosaur statues. Dinosaur fanatics will love hunting down all the dinosaurs scattered throughout the venue. On arrival outside, you'll find two dinosaurs including a Tyrannosaurus Rex and a Brachiosaurus, and once inside you'll find many more. The dinosaurs are very impressive and totally a worth a visit!
Step into an epic prehistoric world when you onto their lazer tag adventure. The 250 square metre lazer arena is dimly lit with fog swirling and lots of ancient dinosaurs lurking within. Battles last for one hour and it's suitable for all from the age 4.
The arcade is also a destination, boasting over 30 games, Game Over is home to some of the best arcade games. It won't take long for your dinosaur loving children to find the Jurassic Park, and dinosaur themed games.
Game Over is located in Frankton at Red Oaks drive and open from 10am till late.
Not in Queenstown, but definitely worth a visit! Roys Bay Recreation Reserve, better known as the Dinosaur Park is located in the heart of Wanaka right on the lakefront. It is renowned for its ginormous dinosaur slide and is easily accessed off Ardmore Street or a pathway off Lakeside Road. Dino loving kids will forever remember this playground as the dinosaur park. The playground is suitable for both younger and older kids, and there's also one free BBQ with plenty of seating and picnic tables around. Aside from the dinosaur slide, there's also swings, a seesaw, mini space net, smaller slide and structures to allow kids to climb and spin around.
There's lots of parking available right by the playground and public toilets close by.
Who'd have thought you'd find dinosaurs at a Motorsport Park?! Located in Cromwell, 45 minutes from Queenstown, Highlands Motorsport Park has something for everyone. From Go Karting, Highlands Museum, the famous Loo with View and multiple ways to experience an international race circuit. You'll also find a fully licensed café with views of their world class racetrack.
Wander around the Highlands Sculpture Park, located beside the Go Kart building, and seek out the dinosaur sculptures. Entry is free and there's also a flying fox! Make sure you don't leave Highlands without visiting their famous 'Loo with a View'!
If the kids left their dinosaur collection at home or are looking for their latest prehistoric creature to add to their collection, Kmart is the place to go. Kids who love dinosaurs will get their Jurassic fix with the 30-piece mini assorted dinosaur collection for just $5. Kmart is located at Queenstown Central, in Frankton.