Jet Boat Ride +
Wine and Food Tour
JET BOAT + QUEENSTOWN WINE TOUR
Enjoy a thrilling 60 minute Jet boat ride followed by a small group Queenstown wine tour, sampling local wines at three Central Otago wineries. This combo is the perfect combination of adrenaline and relaxation.
Start your day with a Jet boat trip leaving from Central Queenstown Bay and travel up the famous Kawarau and Shotover Rivers. Our expert drivers will navigate channels less than 5cm deep, complete 360° spins and get you up to speeds of 95kph.
During your half day wine tour, you'll experience world class Central Otago wine and food. The delicious lunch consists of several tasting dishes each perfectly matched by the Chief Winemaker and Head Chef, using estate wines and fresh local produce. You'll enjoy wine tasting and presentations at 3 wineries, including one larger well-known winery and two boutique wineries. This tour includes a visit to New Zealand's largest underground wine cave. Here you'll receive insights into the Central Otago wine industry whilst savouring premium wine.
This combo is available on request – please email bookings@kjet.co.nz
WHAT'S INCLUDED:
Hosted tastings at three wineries
Underground wine cave tour
Lunch with wine match
Includes FREE digital photos of your Jet boat ride when you depart from the Main Town Pier.
TAKE A PIECE OF ADRENALINE ACTION HOME WITH YOU!
It's not every day you get the chance to take a spin on the world's first commercial Jet boat ride. We photograph every Jet boat ride, and you receive FREE digital photos with every ticket purchased, when you depart from the Main Town Pier!
DAILY DEPARTURES:
Tour departs 11am – 5.30pm. Leaves from Main Town Pier, Queenstown. Check in is 15 minutes before departure. Please note Wine Sampler does not operate on Good Friday, Christmas Day and Boxing Day.
See the Queenstown Wine Trail video
KJet Jet boat trip
Q. What should I wear on the Jet boat?

A. For your comfort we recommend that you dress for the weather conditions on the day, keeping in mind that in our boats you will be travelling at 95kph and therefore the wind-chill can be frosty! Don't forget to bring a waterproof jacket, your sunglasses, (or goggles in winter) sunscreen, as well as hats & gloves in winter months. Please ensure your little ones are dressed especially warm.

Q. Can I take my bags on the Jet boat?

A. We are able to store backpacks or handbags. We do request that you please leave your valuables at home.

Q. Can I take my camera on the Jet boat?

A. On our trip there are many fantastic photo opportunities so YES, we'd love you to take your camera on board to capture these moments and share them. However, your camera is taken on board at your own risk, keep in mind with Jet boating there is the risk of getting slightly wet and we need you to be able to hold on to the hand rails, especially during our 360° spins. If you need more information about this please chat to our Reservations Team and Drivers when you check-in for your trip.

Q. Will I get wet on the Jet boat?

A. Part of the fun with Jet boating is the spray and drama! If you are really worried about getting wet then please request to our staff that you sit in the centre seats of the boat. Please note we can't guarantee seating. We recommend you bring your own waterproof jacket.

Q. What is your child age?

A. Our child age is 5-14 years. Our Infant age is 2-4 years and travel for FREE with an accompanying adult, as long as they can fit a lifejacket.

Q. What are the weight/height restrictions to ride KJet?

A. Children – there is no height restriction to ride KJet. However, children must be able to fit into one of our life jackets. Adults – we do not have a weight restriction to ride KJet but you must be able to fit into one of our life jackets. We have a wide variety of life jackets available going up to a maximum size of 4XL.

Q. Can I ride KJet if I am pregnant?

A. Unfortunately, pregnant thrill-seekers are unable to ride KJet.

Q. Can you Jet boat in the winter?

A. Absolutely! We also have heated hand-rails to keep your hands toasty and warm.
Wine Tour
Q. Do you drop back to our accommodation?

A. This tour offers courtesy drop-off at selected Queenstown accommodation providers, as well as downtown Queenstown. Please provide details upon booking.
WHERE WE TAKE YOU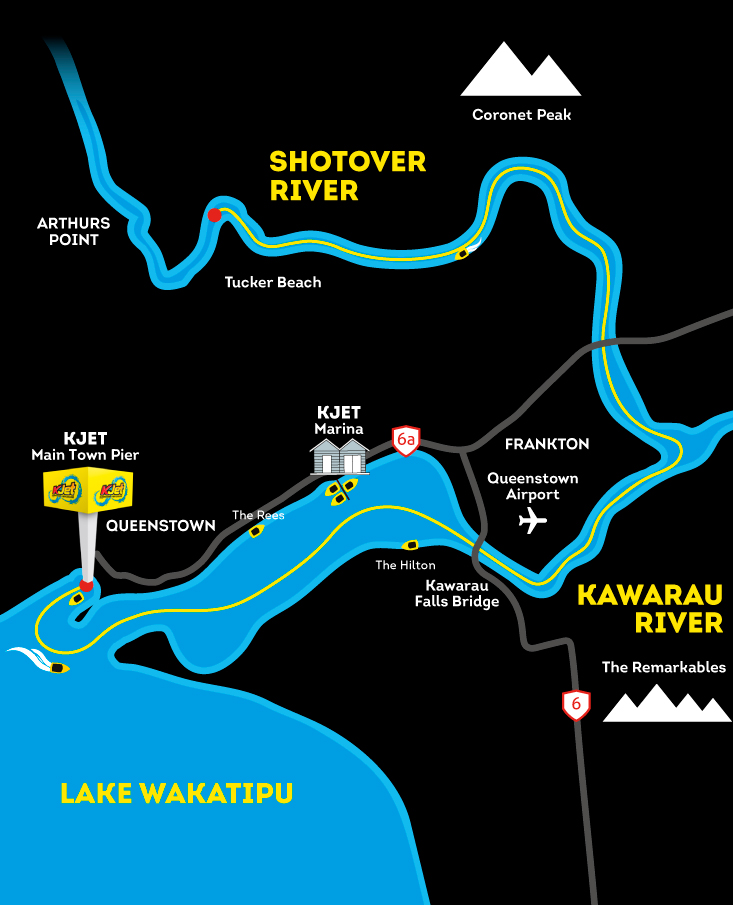 what to bring:
warm jacket

casual footwear

sunglasses

sunscreen

camera
we provide:
life jacket

Spray Jacket