Kawarau Jet +
Kawarau Bungy
JET BOAT + AJ HACKETT BUNGY JUMP
Take on two of the world's firsts!
Queenstown is renowned for being the adventure capital of the world and no bucket list is complete without experiencing these two iconic original activities – AJ Hackett Kawarau Bridge Bungy Jump and Kawarau Jet (KJet). We've teamed up with AJ Hackett to bring you The Originals combo for one great price!
If you're going to throw yourself off a perfectly good bridge, then you may as well take a leap of faith in Queenstown where it all began at the Kawarau Suspension Bridge, the world home of Bungy. This original 43 metre Bungy Jump is still the most famous of leaps. For that extra adrenaline rush, try a dunk in the mighty Kawarau River.
Then, get ready for an insane high speed 60 minute Jet boat ride thundering down the world famous Kawarau and Shotover Rivers. Go full throttle at speeds of 95kph on the fastest and meanest Jet boats in town. You'll be screaming to go faster.
Minimum age to Bungy is 10 years old. Children 14 and under require an adult to sign consent at check-in and accompany them on their experience. Must weigh between 35kg to 235kg.
WHAT'S INCLUDED
Birthplace of AJ Hackett Bungy and Kawarau Jet
DAILY DEPARTURES
With The Originals combo you are free to choose when you want to go. * Subject to availability. Free transport is available to the Kawarau Bungy Site on the Bungy Bus at 10am (please allow 2.5hrs round trip) or you are welcome to drive yourself to the Kawarau Bungy Centre, State Highway #6 (SH6), Gibbston Valley, Queenstown. View map. Closed Christmas Day.
KJet: Every hour on the hour, 10am to 4pm. Leaves from Main Town Pier, Queenstown. Check in is 15 minutes before departure.
TAKE A PIECE OF ADRENALINE ACTION HOME WITH YOU!
It's not every day you get the chance to take a spin on the world's first commercial Jet boat ride. We capture every Jet boat ride, so make sure you check out your trip photos and videos to purchase here.
KJet Jet boat trip
Q. What should I wear on the Jet boat?

A. For your comfort we recommend that you dress for the weather conditions on the day, keeping in mind that in our boats you will be travelling at 95kph and therefore the wind-chill can be frosty! Don't forget to bring a waterproof jacket, your sunglasses, (or goggles in winter) sunscreen, as well as hats & gloves in winter months. Please ensure your little ones are dressed especially warm.

Q. Can I take my bags on the Jet boat?

A. We are able to store backpacks or handbags. We do request that you please leave your valuables at home.

Q. Can I take my camera on the Jet boat?

A. On our trip there are many fantastic photo opportunities so YES, we'd love you to take your camera on board to capture these moments and share them. However, your camera is taken on board at your own risk, keep in mind with Jet boating there is the risk of getting slightly wet and we need you to be able to hold on to the hand rails, especially during our 360° spins. If you need more information about this please chat to our Reservations Team and Drivers when you check-in for your trip.

Q. Will I get wet on the Jet boat?

A. Part of the fun with Jet boating is the spray and drama! We recommend you wear a waterproof jacket. If you are really worried about getting wet then please request to our staff that you sit in the centre seats of the boat. Please note we can't guarantee seating.

Q. What is your child age?

A. Our child age is 5-14 years. Our Infant age is 2-4 years and travel for FREE with an accompanying adult, as long as they can fit a lifejacket.

Q. What are the weight/height restrictions to ride KJet?

A. Children – there is no height restriction to ride KJet. However, children must be able to fit into one of our life jackets. Adults – we do not have a weight restriction to ride KJet but you must be able to fit into one of our life jackets. We have a wide variety of life jackets available going up to a maximum size of 4XL.

Q. Can I ride KJet if I am pregnant?

A. Unfortunately, pregnant thrill-seekers are unable to ride KJet.

Q. Can you Jet boat in the winter?

A. Absolutely! We also have heated hand-rails to keep your hands toasty and warm.

Q. Is it wheelchair accessible?

A. Yes absolutely, as long as a Caregiver can help our drivers carry you down a set of stairs and assist you into the Jet boat.
Kawarau Bungy
Q. How often do bungy trips depart from Queenstown?

A. Trips depart from The Station in Central Queenstown between 9.20am – 2.40pm (closed Christmas Day).

Q. What are the weight/height restrictions for the Kawarau Bungy?

A. Kawarau Bridge Bungy – 35kg min/235kg max

Q. Can I touch the water?

A. Although we cannot always guarantee a water touch due to reasons outside our control, we can offer this option at the Kawarau Bridge Bungy.

Q. Can my friends and family come watch me Bungy jump?

A. Absolutely! They do need to book transport directly with AJ Hackett Bungy, or self-drive out to the Kawarau Bridge.

A. You can drive to the Kawarau Bridge Bungy, located on SH6 in the Gibbston Valley, just 25 minutes from Queenstown.

Q. Can I Bungy if I am pregnant?

A. Unfortunately, pregnant thrill-seekers are unable to Bungy jump.
WHERE WE TAKE YOU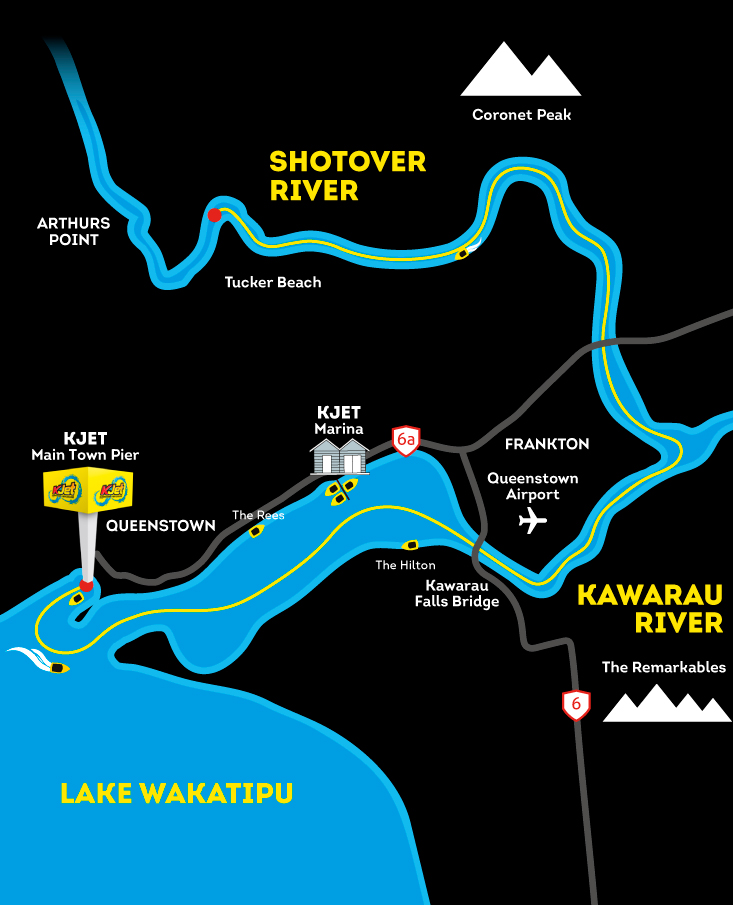 what to bring:
warm jacket

casual footwear

sunglasses

camera

Sunscreen
we provide:
life jacket