Shark Ride +
Parasailing +
Jet boat ride
TRIPLE THE THRILLS WITH A DAY IN THE BAY!
Get ready for a Jawsome thrill ride with Hydro Attack! Take a bite out of Queenstown skimming across Lake Wakatipu in a semi-submersible shark and get ready to feel the g-forces at speeds of 80 kph. Scream as you jump five metres into the air and dive into the crystal-clear turquoise waters at 40 kph. This is a one-on-one experience with the pilot so you're able to push your own limits and go as wild as you want above and below the water. Queenstown is the only place in the world you can try it out!
Fly high above the shores of Lake Wakatipu on an unforgettable tandem flight with Queenstown Paraflights, New Zealand's most exciting tandem parasailing experience. Lifting off the back of the big red boat to 200 metres above the shimmering waters of Lake Wakatipu, sit back as you take in the incredible 360˚ views of Queenstown.
Then, get ready for an insane one hour Jet boat ride on the mighty Shotover and Kawarau Rivers. Go full throttle at speeds of 95kph on the fastest and meanest Jet boats in town. You'll be screaming to go faster. Don't take our word for it though, book now!
This combo deal requires multiples of 2 people per booking, as this package includes a tandem parasailing flight.
BOOK NOW
COMBOS
Minimum age to ride in the shark is 6 years old. Rides in the shark are subject to a weight restriction of 105kg (231 pounds/16.5 stone) and height restriction of 193cm (6ft 4′).
WHAT'S INCLUDED
SAVE $24 when you book the Bay Thriller Combo
20 minute high speed thrilling shark ride
10 – 15 minute flight with amazing views of Queenstown, the lake & the mountains
60 minute adrenaline fuelled Jet boat ride
DAILY DEPARTURES
With our Bay Thriller combo you are free to choose when you want to go.
* Subject to availability.
Hydro Attack
On demand throughout the day.
Queenstown Paraflights
Every hour on the hour from 10am until sunset
KJet
Every hour on the hour, 10am to 5pm. Leaves from Main Town Pier, Queenstown. Check in is 15 minutes before departure.
*This combo does not operate on Christmas Day.
CHECK OUT THE SHARK IN ACTION
FAQ's
KJet Jet boat trip
Q. What should I wear on the boat?

A. For your comfort we recommend that you dress for the weather conditions on the day, keeping in mind that in our boats you will be travelling at 95kph and therefore the wind-chill can be frosty! Don't forget to bring a waterproof jacket, your sunglasses, (or goggles in winter) sunscreen, as well as hats & gloves in winter months. Please ensure your little ones are dressed especially warm.

Q. Can I take my bags on the boat?

A. We offer complimentary storage for small backpacks and handbags, however, due to the recent news of Covid-19 being present in Queenstown, we request that you please leave your valuables at home.

Q. Can I take my camera on the boat?

A. On our trip there are many fantastic photo opportunities so YES, we'd love you to take your camera on board to capture these moments. However your camera is taken on board at your own risk, keep in mind with Jet boating there is the risk of getting slightly wet and we need you to be able to hold on to the hand rails, especially during our 360° spins. If you need more information about this please chat to our Reservations Team and Drivers when you check-in for your trip.

Q. Will I get wet on the boat?

A. Part of the fun with Jet boating is the spray and drama! If you are really worried about getting wet then please request to our staff that you sit in the centre seats of the boat. Please note we can't guarantee seating. We recommend you bring your own waterproof jacket.

Q. What is your child age?

A. Our child age is 5-14 years. Our Infant age is 2-4 years and travel for FREE with an accompanying adult.

Q. What are the weight/height restrictions to ride KJet?

A. Children – there is no height restriction to ride KJet. However, children must be able to fit into one of our life jackets. Adults – we do not have a weight restriction to ride KJet but you must be able to fit into one of our life jackets. We have a wide variety of life jackets available going up to a maximum size of 4XL.

Q. Can I ride KJet if I am pregnant?

A. Unfortunately, pregnant thrill-seekers are unable to ride KJet.

Q. Can you Jet boat in the winter?

A. Absolutely! We also have heated hand-rails to keep your hands toasty and warm.
Shark Ride
Q. How long does the trip last?

A. Please allow 20 minutes for individual shark experience. Please check-in at our booking kiosk 15 minutes before your departure time.

Q. Is there a minimum age?

A. Yes, our minimum age is 6 years old and a parent or guardian must check in with the child to sign the consent form if they are under 18. Please remember Hydro Attack is a one-on-one trip so it's only suitable for kids who are confident away from their parents.

Q. Where do your trips depart from?

A. Our trips depart from our berth at the Lapsley Butson Wharf, on the Queenstown Lakefront by Earnslaw Park in Central Queenstown. Check in at the booking kiosk on the lakefront in front of Patagonia Chocolates.

A. Currently we only offer passenger rides. Due to the boat availability and the technicality of the machine's controls we don't offer a self -drive option. If you're interested in purchasing a Seabreacher X from us we do offer Seabreacher training once you have put down a deposit. Conditions apply.

A. Due to the cosy confines of the cockpit it is recommended you wear comfortable loose-fitting clothes and dress in layers as it can get warm in the cockpit. You also may need to remove your footwear as per drivers request.

A. Our inflatable aircraft seal and thick acrylic canopy keeps the cockpit protected from the water and the weather. As we are a water-based activity there is the potential at times to get a small bit of spray or damp feet but nothing to worry about. Wet weather gear isn't required to be worn in the craft, only the streamlined lifejacket we provide.

Q. Is there a weight or height restriction?

A. Due to the cosy confines of the cockpit we need to make sure that all our passengers can get in and out of the cockpit quickly and safely in the unlikely event of an emergency. Due to this there is a height restriction of 192cm (6ft 3') and weight restriction of 110kg (242lbs or 17 stone) in place.

Q. Is my trip weather dependent?

A. Hydro Attack's operation can be affected by high swell on the lake, heavy rain or stormy conditions so we ask that you call our freephone number 0508 HYDRO ATTACK (493 7628) to do a weather check at least one hour before your trip departs.

Q. Can I ride in Hydro Attack if I have an injury or am pregnant?

A. If you have any specific medical condition including breaks or fractures or you suffer from back or neck problems please advise us at time of booking so we can assess and advise your suitability to travel. Unfortunately if you are pregnant or have a serious heart condition we do not recommend that you ride on Hydro attack.

Q. Where can I put my belongings?

A. We have plastic containers to hold your belongings inside our booking kiosk while you take your trip.

Q. Can I bring my camera/phone?

A. Sorry, no loose items can be in your pockets or taken inside the shark during your trip. We provide a secure location to leave your belongings while you're on your trip. Cameras and bags can be taken on the boat (but not the shark) on the boat trip and shark ride option.
Parasailing
A. No, you fly high and stay dry.

Q. Do I wear a lifejacket?

A. Yes, life jackets are provided.

Q. Is there a minimum age?

A. Children can fly tandem or triple with an adult once they weigh over 20kgs.

Q. How long does the trip last?

A. Please allow 1 hour for the round trip. This includes 10 minutes of flying time. The rest of your time will be spent cruising around lake Wakatipu giving you time to enjoy the beautiful scenery Queenstown has to offer.

Q. Where do the Parasailing trips depart from?

A. Parasailing trips leave from the Main Town Pier in Queenstown. This is at the lake end of the Queenstown Mall in front of Eichardts Hotel.

A. Please wear clothing suitable to the conditions on the day you are coming flying. On a warm day you can wear shorts and t-shirts. Extra layers, such as hats and gloves will be required in winter. Please note we do not supply extra clothing.

Q. What are your weight restrictions?

A. We can fly up to a maximum combined weight of 200kg (440 lbs). If you exceed this weight limit you will not be able to fly and we will need to alter your booking.

Q. Is my trip weather dependent?

A. Yes, Queenstown Paraflights is a weather dependent activity and for this reason we ask you to call us one hour before your flight for a weather check. If the weather is not suitable at the time of your scheduled flight we will do everything we can to reschedule you for another time or day.

Q. Can pregnant women fly with Queenstown Paraflights?

A. Yes – Please call us to discuss this in more detail prior to booking.

Q. Can injured and/or disabled people come flying with Queenstown Paraflights?

A. Yes – please call us on 0800 225 520 to discuss this in more detail prior to booking.

Q. Is there somewhere I can leave my personal belongings?

A. You can bring everything with you on-board the boat. It will be very safe on-board while you are flying.

Q. Can I bring my camera/phone/Go-Pro?

A. Yes – you can bring any of these items with you while you fly. This is at your own risk and Queenstown Paraflights will not take responsibility for any lost or damaged items.
WHERE WE TAKE YOU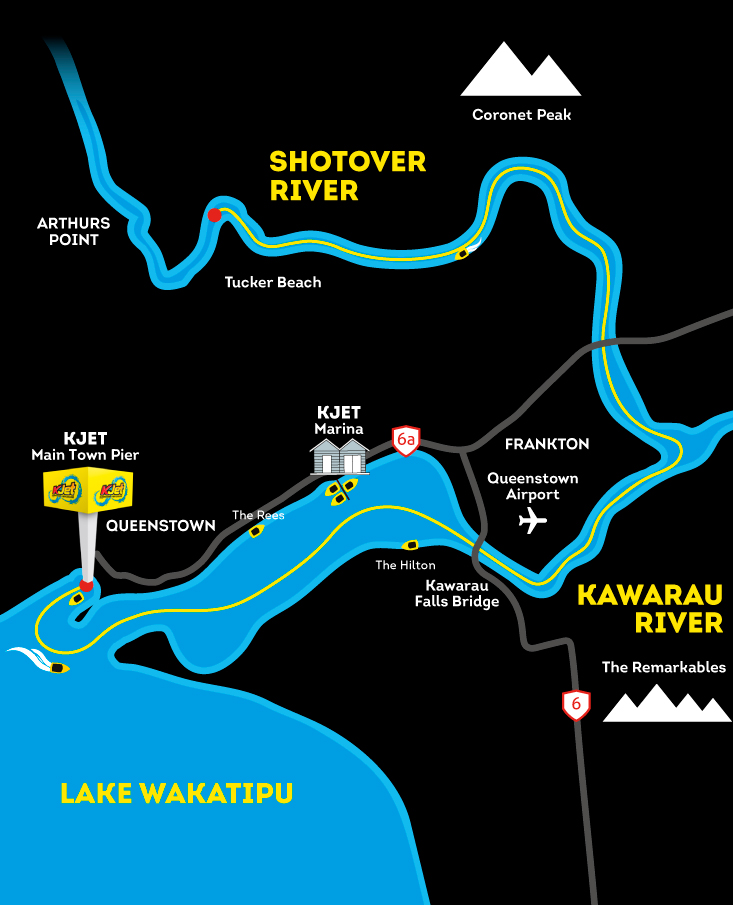 what to bring:
warm jacket

casual footwear

sunglasses

sunscreen

camera
we provide:
life jacket