Jet Boat Ride +
Scenic Helicopter Flight
LAND ON THE REMARKABLES MOUNTAIN RANGE
Discover the best views in town with our great saving, high flying combo. Begin your day on an adrenaline fuelled Jet boat ride with KJet and then take to the skies on an incredible scenic Helicopter flight over Queenstown with Glacier Southern Lakes Helicopters. Your trip includes an alpine landing 5,000 feet above sea level on the Remarkables spur. There is no better way to experience Queenstown's stunning scenery.
With KJet the world's first Jet boat company, you get twice the fun on two rivers, travelling at speeds of 95kph in channels less than 5cm deep in some places. Throw in a few 360° spins, and the fastest meanest Jet boats in town, this is one combo trip you don't want to miss.
Don't take our word for it though, book now!
Please note: This combo has a minimum requirement of two adult passengers to confirm a booking.
Combo requires a minimum of two adult passengers. Child age is 2 - 11 years old. Minimum age 2 years. Please specify weight for all passengers, this is mandatory under Civil Aviation Authority of New Zealand regulations*
WHAT'S INCLUDED
45 minute Jet boat ride in Queenstown on the Kawarau and Shotover Rivers
Helicopter landing on The Remarkables mountain range with Glacier Southern Lakes
Scenic helicopter flight over Queenstown
Minimum of 2 people required to confirm booking, and must be booked 24 hours in advance
DAILY DEPARTURES
This trip departs daily at 2pm from the Main Town Pier. Please note this combo does not operate on Christmas Day.
TAKE A PIECE OF ADRENALINE ACTION HOME WITH YOU!
It's not every day you get the chance to take a spin on the world's first commercial Jet boat ride. We capture every Jet boat ride, so make sure you check out your trip photos and videos to purchase here.
See Glacier Southern Lakes Helicopters in action
KJet Jet boat trip
Q. What should I wear on the Jet boat?

A. For your comfort we recommend that you dress for the weather conditions on the day, keeping in mind that in our boats you will be travelling at 95kph and therefore the wind-chill can be frosty! Don't forget to bring a waterproof jacket, your sunglasses, (or goggles in winter) sunscreen, as well as hats & gloves in winter months. Please ensure your little ones are dressed especially warm.

Q. Can I take my bags on the Jet boat?

A. We are able to store backpacks or handbags. We do request that you please leave your valuables at home.

Q. Can I take my camera on the Jet boat?

A. On our trip there are many fantastic photo opportunities so YES, we'd love you to take your camera on board to capture these moments and share them. However, your camera is taken on board at your own risk, keep in mind with Jet boating there is the risk of getting slightly wet and we need you to be able to hold on to the hand rails, especially during our 360° spins. If you need more information about this please chat to our Reservations Team and Drivers when you check-in for your trip.

Q. Will I get wet on the Jet boat?

A. Part of the fun with Jet boating is the spray and drama! We recommend you wear a waterproof jacket. If you are really worried about getting wet then please request to our staff that you sit in the centre seats of the boat. Please note we can't guarantee seating.

Q. What is your child age?

A. The child age for this combo is 0 - 11 years inclusive. Children and infants must be able to fit into one of our life jackets. There must be one adult for every infant booked.

Q. What are the weight/height restrictions to ride KJet?

A. Children – there is no height restriction to ride KJet. However, children must be able to fit into one of our life jackets. Adults – we do not have a weight restriction to ride KJet but you must be able to fit into one of our life jackets. We have a wide variety of life jackets available going up to a maximum size of 4XL.

Q. Can I ride KJet if I am pregnant?

A. Unfortunately, pregnant thrill-seekers are unable to ride KJet.

Q. Can you Jet boat in the winter?

A. Absolutely! We also have heated hand-rails to keep your hands toasty and warm.

Q. Is it wheelchair accessible?

A. Yes absolutely, as long as a caregiver can help carry you down a set of stairs and assist you with getting in and out of the Jet boat.

Q. Can I ride with KJet if I have a medical or physical condition?

A. Please get in contact with our team if you have a medical or physical condition that may affect the enjoyment of your ride. If for any reason, you are unable to get in and out of the Jet boat by yourself, you will need to have a support person with you to help you get in and out of the Jet boat. If you are unable to hold onto the handrail or brace yourself with your feet throughout the duration of the ride, you will need to have a support person travel with you. If you're unsure about an existing condition, we recommend you consult with your doctor prior for advice. Please contact us if you have any questions or concerns.
Helicopter Trip
Q. What type of helicopters do you fly and how many passengers can they carry?

A. Glacier Southern Lakes Helicopters own a fleet of Airbus AS350 Squirrels. These carry a total of 6 passengers plus the pilot, 2 seats are located in the front and 4 along the back.

A. For small infants we provide extra lap belts so that infants are restrained as well as child sized headphones which aren't connected to the internal PA system so you don't need to worry about other passengers hearing them if they cry. There is no minimum age to fly and we find that toddlers and babies are very comfortable flying – very often they just fall asleep!

Q. Do you have a maximum passenger weight?

A. No, however for the purpose of aircraft weight and balance and in accordance with Civil Aviation Authority standard, we require all individual passenger weights at the time of booking. Passengers will be weighed again upon check-in to ensure we have accurate weights of all passengers.

Q. What happens if our flight is cancelled or postponed due to weather?

A. If your flight is cancelled due to weather and you are not able to reschedule we offer a full refund for the helicopter portion. Weather plays a big part in what we do and unfortunately none of us have figured out how to control it yet!

Q. How long do you land on the Remarkables Mountain Range?

A. Each landing usually lasts for about 10 minutes which is plenty of time to snap a few photos. The helicopter will not be shut off during the landing.

Q. I have a keen interest in photography, can I reserve a front seat so that I can get good shots from the helicopter?

A. We never like to guarantee the front seat because seating allocation is at the discretion of the pilot who must consider weight and balance for helicopter safety. Because every scenic flight has a landing, there is the opportunity to change the seating arrangements part way through the flight. This makes it fairer for all passengers, giving everyone an opportunity of a front seat or window seat.

Q. Is the helicopter trip wheelchair/disability accessible?

A. This is a case by case basis, so please contact Glacier Southern Lakes Helicopters before booking on 0800 801 616. You do need to be able to hold yourself up in the helicopter unassisted and be comfortable with staff helping you in and out of the helicopter. Unfortunately there is no wheelchair accessible van so you will need to be able to make your own way to the base at 35 Lucas Road. The wheelchair may not be able to be taken on the flight, so you may need to remain in the helicopter for any landings.
Your KJet ride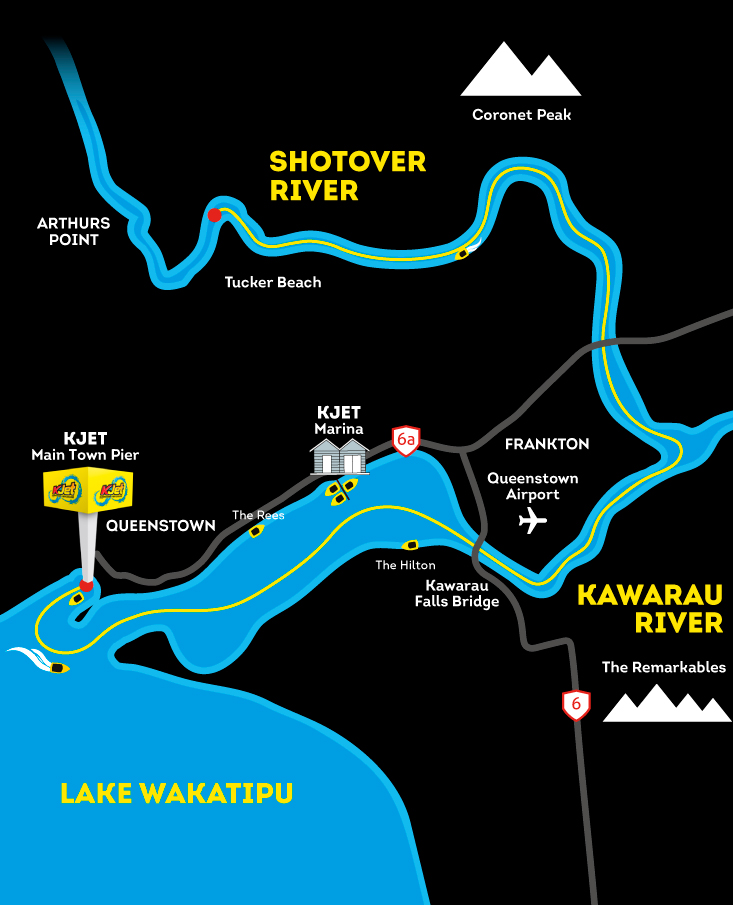 what to bring:
Warm Jacket

Casual Footwear

Sunglasses

Camera

Sunscreen
we provide:
Life Jacket